BeYou Menstrual Cups - Two sizes
BeYou Menstrual Cups - Two sizes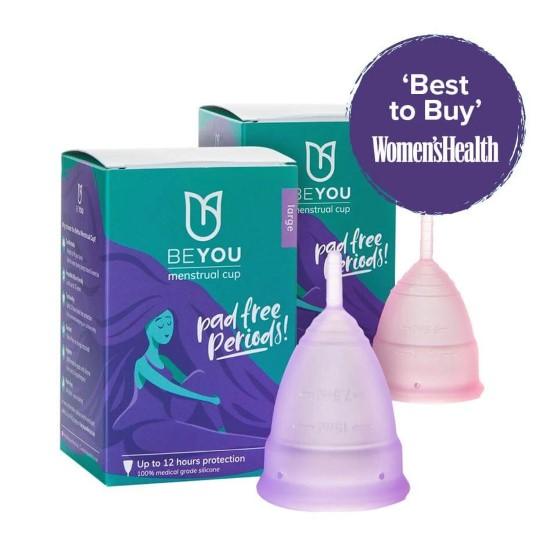 We're sorry we're out of stock, but we can let you know as soon as this product becomes available again.
Enter your details below and we'll email you once this item is back in stock.
BeYou's Menstrual Cup is an alternative to other period products worn inside the vagina, collecting up to three tampons worth of blood flow rather than absorbing it. Made without hazardous chemicals, the cup can be worn for up to 12 hours, so you can save money and reduce waste. Cheaper, healthier and better for the environment.
What size menstrual cup?
Have you had children? - Yes, vaginal birth – Large - Yes, Caesarean – Medium - No – Medium
Are you under 25 years old? - Yes – Medium - No – Large
Made from 100% soft medical grade silicone. 
Take your time and practice using your cup until you feel comfortable.
Fold the cup using a fold that feels most comfortable for you.
Insert the folded cup into your vagina with the same method as a tampon.
The cup should sit lower than a tampon inside your vagina, but should feel comfortable, with the stem fully inside.
Once the cup is inside, it will open and create a light suction. This is how the cup prevents leaks.
You can use your finger to check it is fully unfolded. You can twist the cup if you need to.
The cup can be used for up to 12 hours, but you can empty your cup when you feel you need to.
To remove the cup, gently pull the stem of the cup downwards until you can reach and hold the base of the cup.
Pinch the base to release the suction and take it out.
You may need to push down to help reach your cup.
Empty the contents of your cup into the toilet and rinse.
Reinsert cup if needed.